Scottish Holland & CSC
The Scottish Holland Blind Company and Chamberlain Solar Control (CSC) have worked within the Heritage sector to monitor, recommend and provide solutions to counter the effects of the damaging UV and infrared.
The two companies have now formed a partnership to offer a comprehensive range of solutions for all types of solar issues experienced in the Heritage sector.


Scottish Holland Traditional Heritage Roller Blinds are now exclusively available through CSC.
CSC provide a full service including UV & Lux light surveys, recommendations and installation of both Blinds & Films.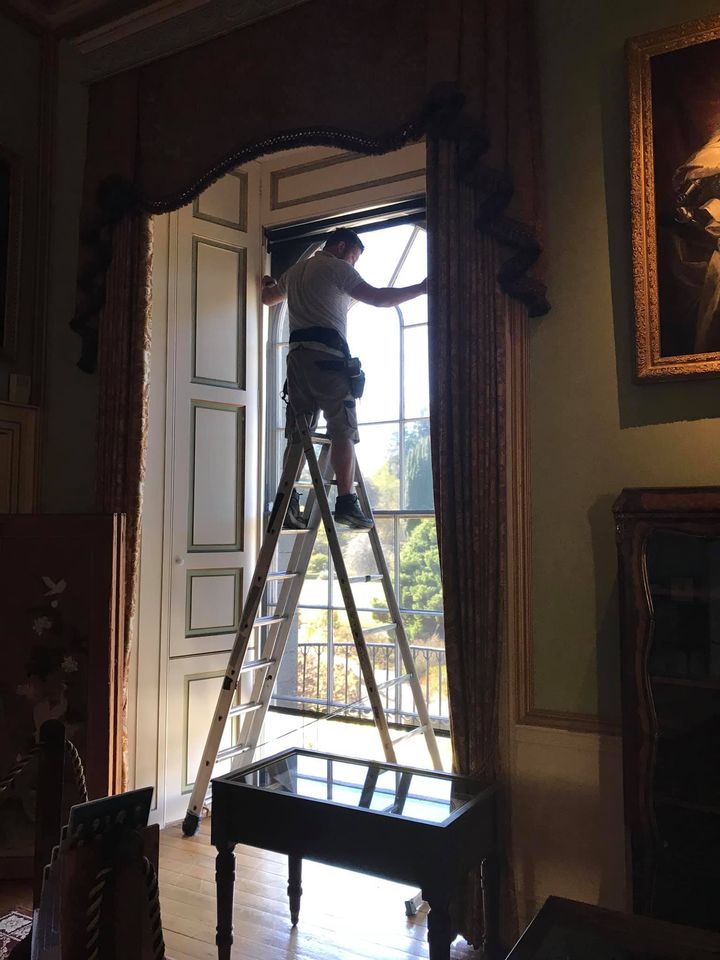 Scottish Holland have manufactured the original Traditional Heritage Roller Blind found throughout National Trust & English Heritage properties as well as numerous private estates, in fact, it is estimated over 90% of the 'Spring Action Roller' systems currently in use are of original Scottish Holland manufacture. Scottish Holland are also proud to still offer original British-made fabrics developed with the National Trust for their Ratchet and Cap & Rack Blinds.
CSC Window Films partnership with Scottish Holland Heritage Blinds.
We believe this partnership will offer clients complete reassurance of Solar Protection by dealing with the leaders in the market, both companies are proud to be listed as suppliers to the National Trust in the Manual of Housekeeping. We will also offer some new services previously not available to the heritage sector, to include,
Refurbishment of existing barrels and covers at 60% of the cost of new blinds, in-house or on-site.
Matching Blackout Colours to complement original fabric colours
New Tandem style assembly to allow shutters to be closed
Free Lux & UV on-site survey
Surveys, Measuring and Installation
A Solar Protection consultant will visit the property and discuss 'at risk' areas, areas of personal concern and also a full light survey enabling clients to decide how they wish to protect the contents of their property.
I have enjoyed going on this journey with CSC Window Films and I am pleased that Torre Abbey's artefacts are once again well protected.

I have used Jed Southgate of CSC Window Films for quite a few years now. His company provides an outstanding service in protecting our furniture and fabrics from the harsh sunlight which can do untold damage to both furniture and materials. The service he provides by covering the panes of window glass is totally undetected and hence leaves his customers with a clear conscience that they are doing their upmost to protect their property from the harsh rays of sunlight. I wholeheartedly recommend CSC Window Films to my own clients. All my clients have been full of praise for Jed and his company and I wish them well.
CSC Windows completed two contracts for the application of UV film at the Gallery of Modern Art in 2007. We are very pleased with the work that has been carried out, was done efficiently and to a high standard.